Patient Safety in Dental anesthesia

At Bay Street Dental Associates, we take every precaution to help make your dental anesthesia appointment as safe as possible.
---
How safe is sedation dentistry?
Sedation and general anesthesia are used safely and effectively for thousands of dental procedures every year. Our team will take every precaution necessary to help provide you with a safe and comfortable appointment.
Prior to your appointment, we will review your medical history with you to make sure that you are healthy enough to undergo anesthesia, and that the sedation or anesthetic we use will not interfere with any medication you are currently taking.
In general, dental sedation and anesthesia are safe for most patients. We want to help put your concerns to rest, so if you have any questions about the safety of sedation dentistry, please feel free to get in touch.
---
Anesthesia Safety Precautions at Our Clinic
In order to keep our patients safe, we strictly adhere to the following in all we do at Bay Street Dental Associates
Your Anesthesia is Administered by Health Professionals.
We have a team of fully qualified dental hygienists and assistants, as well as registered nurses and recovery room staff. We utilize board-certified medical Anesthesiologists for our dental anesthesia procedures.
The clinic facility is fully equipped and set up for sleep dentistry.
All the necessary components for safe sedation dentistry are integrated into our dental offices. We have a full recovery bed area, continuously served and monitored by our Registered Nurses.
We have a range of anesthetic equipment, and all the necessary monitors and devices, including full emergency capability. We conform in every way to the stringent certification requirements for sedation and anesthesia of the Royal College of Dental Surgeons.
A large clinical staff.
Our clinical staff is very large; far in excess of the numbers required for a typical dental practice. The majority of our team members are dedicated Registered Nurses who are committed full-time to working with our dentists. The best care requires not only the best staff but also ample availability of professional medical staff to provide continuous, top-level attention for our patients.
Ongoing support.
We've dedicated ourselves to helping those who have recognized that they need our special care and services. We do not judge. We understand that undergoing dental treatment can be stressful, and we want to do everything we can to alleviate that stress for you. 
Patient information.
We know that patients who are well-informed and who know what to expect are those who typically have the most successful experiences with treatment. We encourage you to tell us about your needs and concerns around safety in detail and ask any questions you may have. We'll listen carefully, and recommend anesthesia and sedation dentistry options based on your unique needs.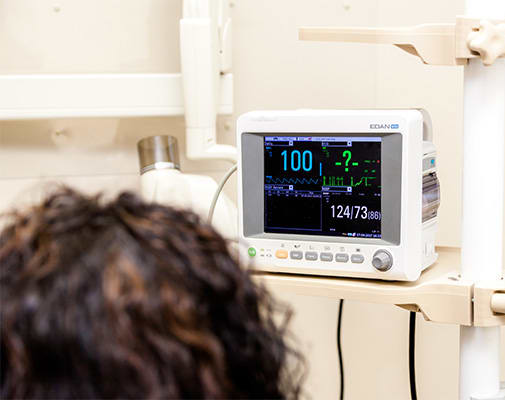 ---
For more details about our safety procedures for sedation dentistry, please feel free to contact our office. 
Request Appointment